OPRANIC VEGA, Industrial Infraheater, 9000W
€1390,00Free shipping
SKU: VEGA90
Power: 9000 Watt
Heat Coverage: Indoor: up to 90 m2
Product Construction: Metal , Steel
Technology: Classic or IRX
Mounting Type: Ceiling & Wall Mount
Mounting Direction: Horizantal
Warranty: 3 Years
INFORMATION
VEGA – THE POWER HEATER
FOR EFFICIENCY HEATING LARGE SURFACES
The VEGA infrared heater for industrial purposes can heat areas up to 80 square meters in an indoor environment. VEGA series is specially designed for spot heating of premises with high ceilings and where large volumes need to be heated, such as industrial facilities, warehouses, hangars and churches.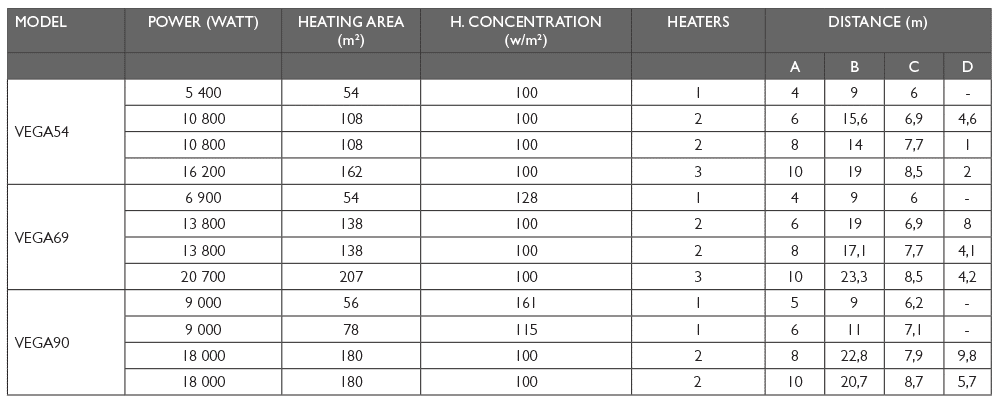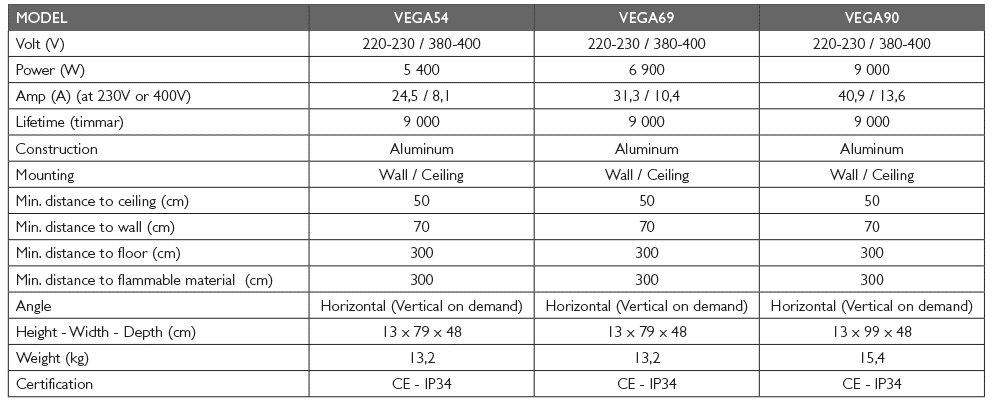 Powerful and Efficient Heat for Industrial Applications!
Opranic infrared heaters offer technology that generates powerful heat, akin to the sun's rays, making them perfect for industrial use. Our infrared heaters directly warm objects without the need to heat up the surrounding air, minimizing energy loss and preserving moisture. If you require reliable and efficient heat for industrial applications, you will appreciate the benefits of Opranic infrared heaters.
Advanced Technology
Opranic utilizes infrared radiation at a wavelength of 2.4 μm, providing exceptional absorption capacity with minimal radiation reflected away. Our heaters are designed to efficiently convert over 90% of supplied energy into radiant heat, offering a cost-effective solution for industrial applications.
Versatile Applications
Opranic infrared heaters are ideal for delivering reliable and efficient heat in industrial environments. They can be used in various applications, such as heating large warehouses, factories, workshops, and other industrial spaces. Our heaters effectively target heat to desired areas, creating a comfortable working environment and enhancing productivity.
Healthy and Energy-Efficient Heating
In addition to providing powerful heat, Opranic infrared heaters are beneficial for employee well-being. The heat emitted promotes blood circulation and is gentle on the skin without emitting harmful rays. Moreover, our heaters are energy-efficient, helping to reduce operational costs and improve sustainability in industrial settings.
Invest in Opranic infrared heaters for your industrial needs and experience the powerful and efficient heat tailored for industrial use. Whether it's heating large spaces or creating a comfortable work environment, you can rely on Opranic for reliable and cost-effective heat in industrial applications.
Description
OPRANIC INFRARED – AT THE FOREFRONT
Our infrared heaters keep you nice and warm in the same way as the sun works. With our infrared heaters, we bring pleasant, inexpensive and efficient heat into every home and every commercial setting. In our range, you'll find energy efficient heaters, ideal for frequent use which will keep you warm in an economical way. We provide a choice of the latest infrared technologies, that is uniquely suited to the challenging requirements of heating outdoors, providing heat in an efficient way.
The latest IR-X Carbon Black technology provides higher efficiency and a longer lifetime. The IR-X Carbon Black emits a deep warm glow with a very low glare that creates a warm ambience in your space that also absorbs very well for humans. IR-X Carbon Black technology heats objects directly without warming up the air in the environment which avoids energy dissipation and maintains humidity.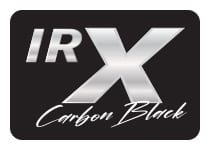 The infrared wavelengths have different properties depending on the object to be heated, so it is important to use the correct wavelength, and a well designed, constructed body to achieve efficient heating. Our technicians have further developed the efficient mediumwave technology at 2,4μm, to reach optimal heat radiation for various applications. The design of our products is mostly made by Scandinavian designers, while technical development and manufacturing is done in other parts of Europe. By having the design, technology and production in our control, we control the choice of components and subcontractors so that the end product meets the requirements for each purpose. In our laboratory, we continuously check the features of the final product such as efficiency, durability, etc. to ensure that our products maintain a high premium standard.